Regular price
Sale price
$87.00
Unit price
per
Sale
Sold out
Firm & lifted. Every day. Effortlessly. Full facial fitness. In just minutes.
WHY YOUR SKIN WILL LOVE IT:
Instant facelift
Facial muscles — toned. Skin — smooth. Wrinkles — what wrinkles? This is possible thanks to advanced microcurrent that mirrors your body's natural electrical currents on a cellular level. And the best part is that it's non-invasive.
Energizing facial workout
What fitness does to your body, IAMA MINITM does to your face and neck muscles. Stimulating microcurrent tones the skin and muscles below, while gentle Sonic pulsations massage the face and brighten your complexion.
Youthful radiance
This device gives you a smoother, glowing complexion due to eliminating toxins and easing facial tension. IAMA MINITM combines microcurrent and Sonic massage to improve microcirculation.
Safe and effective
Anti-Shock System guarantees comfortable treatment, with maximum safety & enhanced results. How? By automatically adjusting microcurrent intensity to maintain an unwavering quality of your IAMATM mini-indulging rituals.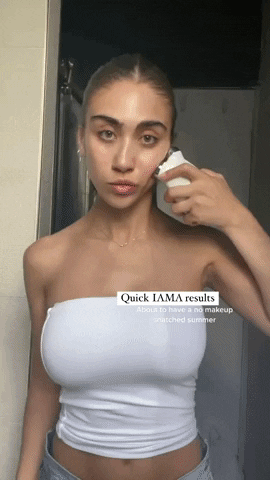 Benefits:
1. Reduce fine lines and wrinkles.
2. Replenish moisture and make your skin smoother.
3. Reduce puffiness and edema.
4. Compact skin and contours can be seen to restore sagging skin.
5. Shrink your pores.
6. Reduce blackheads and acne.
7. Reduce scarring and dents.
8. Reduce dark circles and puffy eyes.
9. Reduce symptoms of eczema, chloasma and rosacea.
Features:
- ATP technology
Adopts ATP technology, helpful for improving the appearance of the skin
- EMS ultra-micro current
EMS ultra-micro current is adopted, it is effective in improving fine lines on the face
- Mini size and portable
With simple button design, easy to operate
- Three adjustable levels
Can be adjusted freely according to skin quality sensitivity degree, suitable for a variety of skin
How to use:
1. Press the button to start up, press again to switch gear, long press 3 seconds to shut down
2. Keep both balls in contact with the skin at the same time. You should feel nothing or little twitching when the using the Mini.
3. After use, please clean the fuselage with a cotton piece to keep the instrument clean.
Share
View full details
STEP 3: Select level of intensity and guided treatment
Achieve instant and cumulative results with the clinically proven benefits of microcurrent.
What is Microcurrent?

Microcurrent is a low-level current that mimics the body's natural ionic flow1and has been clinically tested to safely and effectively address a variety of skin concerns. Because microcurrent works virtually without sensation, the treatment is soothing and most clients feel nothing at all. Microcurrent treatments are popular in the beauty industry for providing both instant and cumulative results.
Microcurrent at various outputs and waveforms has been clinically shown to:

Stimulates the recovery of damaged tissue

✔ Re-educate the muscles

✔ Improve muscle tone and contour in the face/neck

✔ Temporarily improve local circulation

✔ Aid in lymphatic drainage

✔ Enhance product penetration

✔ Reduce fine lines and wrinklesFirm and tighten skin
How often should I use my Mini?

Our 5-Minute Facial-Lift®

Using our guided video of our quick lift with immediate results. 

- 5 minute treatment time

- 5 days per week for the first 60 days

- 2-3 days per week for maintenance
What type of results will I see? How quickly will I see them?

Most users see results after the first treatment; however results may vary. We recommend taking before/after photos and lifting half of your face to compare. Results are cumulative and optimal results are achieved with regular use. Typical results are improved appearance of contour along the jawline and cheeks, improved appearance of skin tone, softer, firmer and smoother skin and reduction in appearance of fine lines and wrinkles. Results from one treatment will last 1-3 days.
Can I use my device after a microneedling treatment?

We recommend waiting 1 week after your treatment before using your IAMA Mini device.
Can I use the Mini if I have rosacea?

Yes, you may absolutely use the Mini if you have rosacea! Because microcurrent will stimulate circulation, the skin may appear flushed after use but will typically clear shortly after your treatment. We suggest that you begin your treatments on the lowest intensity level and see how your skin reacts before increasing the intensity levels.
Can I use the Mini while Pregnant?

We don't recommend using microcurrent devices while pregnant simply because they have not been tested for use while pregnant. However, all our devices are safe for new moms to use while breastfeeding or after.
Can I use the Mini with Botox or Fillers?

Yes, you can use microcurrent with Botox and fillers! We recommend waiting 7-14 days after your procedure before using your Mini.
Can I use my device over moles or birthmarks?

All IAMA devices are safe to be used over moles, birthmarks and stretchmarks.
If I am planning cosmetic surgery or other procedures, can I use the Mini?

For patients who have recently had or who are planning to have injectables, laser treatments and/or surgical facelifts, you should consult your medical professional before using microcurrent.
Who should/shouldn't use an IAMA device?

The IAMA Mini are contraindicated against and should not be used if you are pregnant, have a pacemaker, electronic implanted device, have epilepsy/seizures or active cancer, or are under the age of 18. If you have any medical concerns, please consult your doctor before using the device.
Microcurrent is a safe and effective technology for clients who wish to attain and maintain a healthier, younger-looking appearance.
Origin of Microcurrent Therapy Treatments
Microcurrent has been used in the medical arena since the 1970s with the introduction of the TENS (transcutaneous electrical nerve stimulation) machine and was approved by the FDA as a nerve stimulator for pain relief, wound healing, and the treatment of Bell's Palsy—a condition that causes a temporary weakness or paralysis of the muscles in the face. All microcurrent stimulators are TENS devices and require a 510(K) Certification Class II Device, otherwise they cannot be sold in the US. This certification assures the device is manufactured to the highest standards. With the discovery of microcurrent therapy treatments and their low-level current retraining of the patient's muscles, the FDA cleared muscle stimulators to provide a new anti-aging application for the cosmetology industry.
Shop now
How does Microcurrent Treatment work?
Microcurrent is capable of facial stimulation, sending soft, gentle waves through the skin and down to the facial muscles. This gentle wave of energy is nearly identical to your body's natural ionic flow and has been shown to increase ATP (bodies cellular energy) concentration up to 400%, while simultaneously stimulating protein synthesis and promoting amino acid transport.
ATP (Adenosine Triphosphate) is the main energy fuel source for our cells and is needed for muscle contraction and relaxation. It also encourages the production of key structural proteins, such as collagen which acts like a scaffolding to support the skin's structure and elastin that provides the recoil necessary within the skin to snap back into place.
As we age, our skin's natural ability to manufacture these protein fibers reduces, giving way to the multiple signs of aging. ATP's increased production of proteins and amino acids during facial stimulation helps to energize and tone facial muscles over time—just like how exercise energizes and strengthens the muscles of our body. Unlike anywhere else on the body, the facial muscles are directly connected to the skin, so the result of energizing the muscle is often improved, providing a smooth and lifted appearance.
Shop now
Microcurrent Devices
Traditionally found at top spas and medical offices, at-home microcurrent devices have become one of the hottest innovations in the anti-aging industry. These portable devices allow clients to benefit from the immediate and long-term benefits of microcurrent therapy.
Microcurrent devices are regulated by the FDA and international governing bodies globally, which enforce the highest standards for safety and require rigorous testing to gain clearance to be sold. However, not all devices sold into the market are cleared by the FDA and meet these international safety standards.
Clinical studies are commitments made by companies to show the true efficacy of their devices used—all studies are monitored and performed by professionals, such as dermatologists, to maintain the validity of the product.
Shop now
MICROCURRENT 101: THE MORE YOU KNOW
#FACTS

FACT

Both spheres need to be in contact with my skin

The spheres work as one, meaning both spheres should always be in contact with skin for the microcurrent to "turn ON".

#FACT

FACT

Too much current can damage skin and muscles

Never put anything on your face that contracts the muscles. IAMA devices deliver the perfect amount of microcurrent for instant and long-term results.

Don't ever use over 600 microamps on your face!

More microcurrent is NOT better! You can overstimulate muscles in your face by applying too much current to your delicate facial muscles—just like you can overwater a plant. IAMA Devices have a precise amount of microcurrent for your face.
Real reviews from people just like you